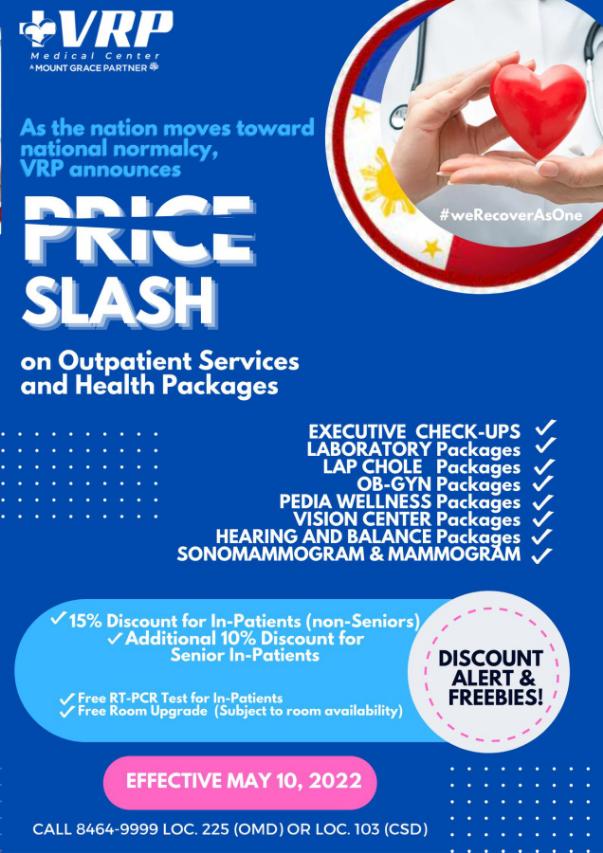 We recover as one.
As we herald national recovery in the new normal, VRP Medical Center casts its all-time PRICE SLASH on all outpatient services and healthcare packages for a toast of healing and recovery to our fellow Filipinos.
Effective May 10, 2022, avail of the slashed price rates on laboratory tests and procedures, Executive Check-Ups, OB-maternity packages, laparoscopic cholecystectomy, pediatric wellness packages, and other packages.
But wait there's more! 🤗 Worry less with generous discounts and freebies for IN-PATIENTS:
15% price-off for non-seniors
Additional 10% discount for seniors
Free RTPCR Tests
Free Room Upgrade
Call 8464-9999 local 103 or 364 (Customer Service) or local 225 (Occupational Medicine) for inquiries and more details.
#weRecoverAsOne
#AlagangVRP
#AlagangVRPinTheNewNormal
#VRPPriceSlash