The President's Report: VRP Medical Center's Annual Stockholders' Meeting
2019 Board of Directors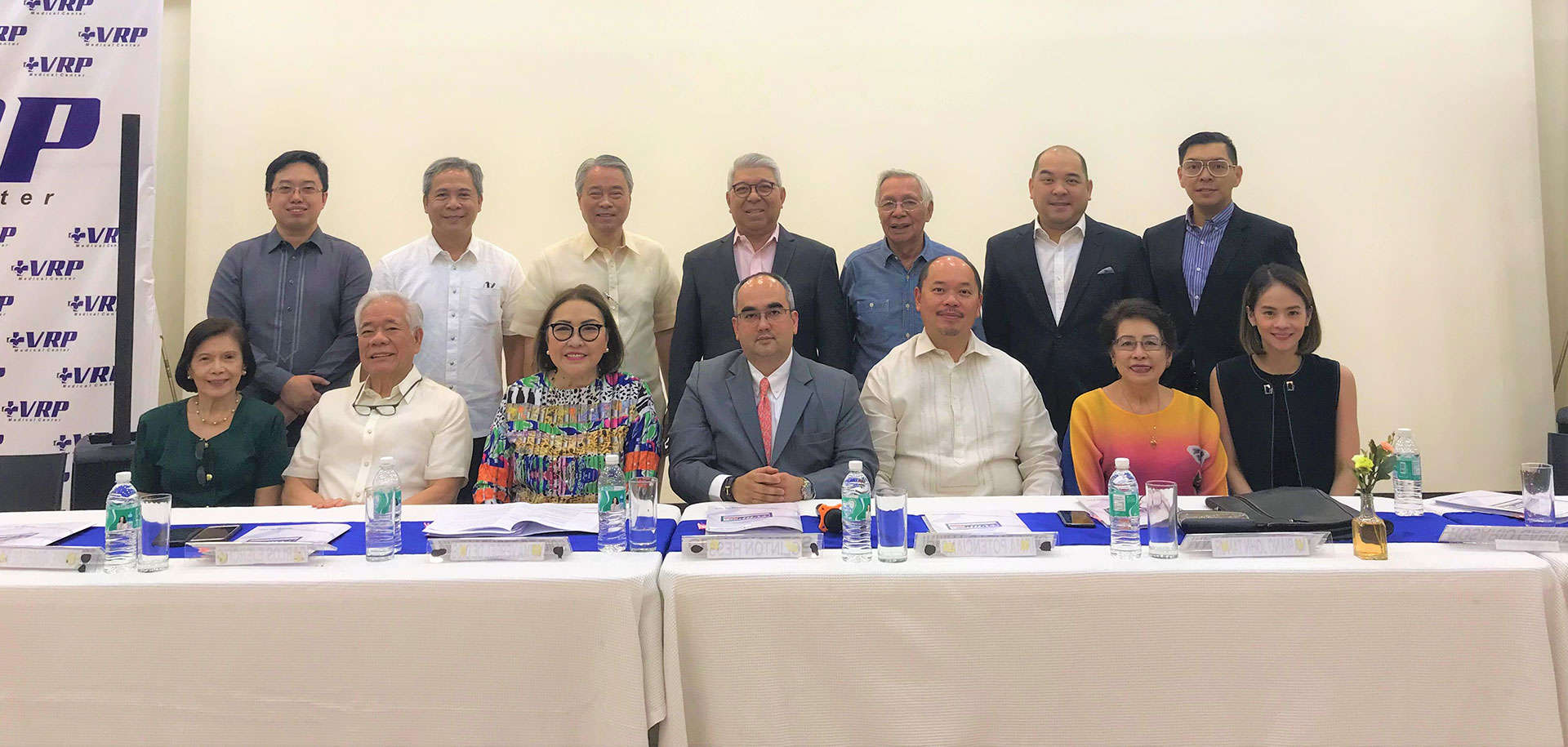 Standing from left to right:
1. Atty. Jerome Flojo – Asst. Corporate Secretary
2. Atty. Garney Candelaria – Corporate Secretary
3. Mr. Rhais Gamboa – Director
4. Mr. Buenaventura Vergel de Dios – Director
5. Dr. Martin Dela Rosa II – Director
6. Mr. Victor Jose Vergel de Dios – Director
7. Mr. Vincent Mark Vergel de Dios – Director
Seated from left to right
8. Dr. Norma Ona – Director
9. Mr. Carlos Ejercito – Director
10. Mrs. Ma. Victoria Vergel de Dios – President
11. Mr. Clinton Andrew Hess – Chairman of the Board
12. Mr. Mariano John Tan Jr. – Director
13. Dr. Rosario Gabriel – Executive Vice President
14. Ms. Erika Go-Martirez – Treasurer
Notice of Annual Meeting of Stockholders
Notice is hereby given that the Annual Meeting of the Stockholders of Dr. Victor R. Potenciano Medical Center, Inc. (the "Corporation") will be held on Monday, July 27, 2020 at 2:00PM, by remote communication through an online meeting platform. The agenda will be as follows:
Call to Order and quorum
Approval of the Minutes of the last Annual Stockholders' Meeting
Report of the President
Presentation of the Audited Financial Statements for 2019
Ratification of all Actions Taken by the Board of Directors for the preceding year in so far as they are reflected in the minutes
Election of Directors for the ensuing term
Appointment of External Auditors for calendar year 2020
Other Matters
Adjournment
Shareholders are encouraged to attend, but those who cannot attend may designate their respective proxy and participate through remote communication in accordance with SEC Memorandum Circular No. 6 series of 2020.
Should the shareholder elect to participate by designating a proxy he/she must deliver, a duly accomplished and signed proxy letter and notice of intent to participate through remote communication through the Administrator's Office, Ground floor OLGC Building, 554 Sierra Madre St. Mandaluyong City or by emailing Ms. Grace Borcelis a [email protected] at least five (5) days before the scheduled meeting.
A visual and/or audio recording of the meeting will be secured, which will be safe-kept and perpetuated by the Corporate Secretary (Section 14, SEC Memorandum Circular No. 6 series of 2020).
For viewing and/or printing, please refer to the downloadable forms in PDF format: