Early detection saves lives. Check your breasts and make it a habit.
Breast cancer is the most common cancer and the leading cause of death from cancer in women.1 It is often found at an advanced stage when the tumor is large and has spread beyond the breast to lymph nodes or other parts of the body. Early breast cancer usually does not cause signs or symptoms until it is pretty significant.
Breast self-exam is one way to prevent any lumps from growing into cancer cells and help you get treated early. Though there is no single test that can detect all breast cancers early, a single breast self-exam enables you to understand the normal look and feel of your breast. If anything has changed in your breast that seems abnormal or if you notice any lumps growing, it is best to consult and confirm it with your doctor.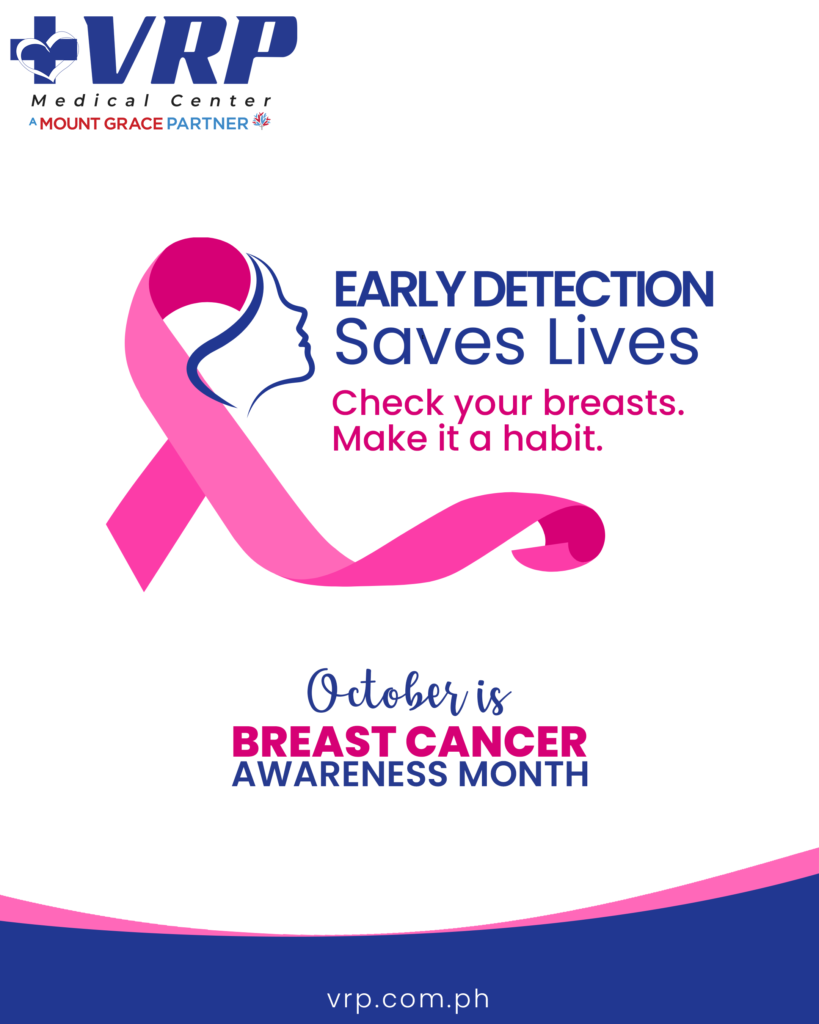 In celebration of Breast Cancer Awareness Month this October, VRP Medical Center will share some tips on how to do a Breast Self-Exam and the early symptoms of Breast Cancer.
BREAST SELF-EXAM STEPS:
1. Begin by looking at your breast in the mirror with your shoulders straight and your arms on your hips. Check if the breasts are normal size, shape, color, and evenly shaped without visible distortion or swelling. If you see any of the following changes, bring them to your doctor's attention:

• Dimpling, puckering, or bulging of the skin
• A nipple that has changed position or an inverted nipple (pushed inward instead of sticking out)
• Redness, soreness, rash, or swelling.
2. Raise your arms and look for the same changes. While you're at the mirror, look for any signs of fluid coming out of one or both nipples (this could be a watery, milky, or yellow fluid or blood.
3. Feel your breasts while either lying down, standing, or sitting using your right hand to feel your left breast and then your left hand to feel your right breast. Use a firm, smooth touch with the first few finger pads of your hand, keeping the fingers flat and together. Use a circular motion, about the size of a quarter.
Cover the entire breast from top to bottom, side to side – from your collarbone to the top of your abdomen, and from your armpit to your cleavage.
Now that we are aware of the breast self-exam, we can do it regularly and monitor any changes. But what if you found a lump? What do you need to do? If you notice a lump, do not panic. Most women have some lumps or lumpy areas in their breasts all the time, and most breast lumps turn out to be benign (not cancer). There are some possible causes of non-cancerous breast lumps, including regular hormonal changes, a benign breast condition, or an injury.
Early detection can save lives and can be treated successfully. It is good to know the early warning signs and symptoms of Breast Cancer. But different people have different symptoms of breast cancer. Some people do not have any signs or symptoms at all. Some warning signs of breast cancer are:
New lump in the breast or underarm (armpit).
Thickening or swelling of part of the breast.
Irritation or dimpling of breast skin.
Redness or flaky skin in the nipple area or the breast.
Pulling in of the nipple or pain in the nipple area.
Nipple discharge other than breast milk, including blood.
Any change in the size or the shape of the breast.
Pain in any area of the breast.
Keep in mind that these symptoms can occur with other conditions that are not cancer, so it is best to consult a specialist. Book your appointment with one of our specialists now.
VRP Medical Center offers services that can help you check your breast for any lumps growing like Mammography (Mammogram), Breast Magnetic Resonance Imaging (MRI), Breast Ultrasound, Core Needle Biopsy, and even Breast Exam.
You may call us for inquiries and appointments at (02) 8464-9999.
Resources:
1 The Global Cancer Observatory. (2021, March). Philippines – Global Cancer Observatory. Retrieved from Global Cancer Observatory – International Agency for Research on Cancer: https://gco.iarc.fr/today/data/factsheets/populations/608-philippines-fact-sheets.pdf
2 What Are the Symptoms of Breast Cancer? (2018, June 14). Retrieved from Center for Disease Control and Prevention: https://www.cdc.gov/cancer/breast/basic_info/symptoms.htm