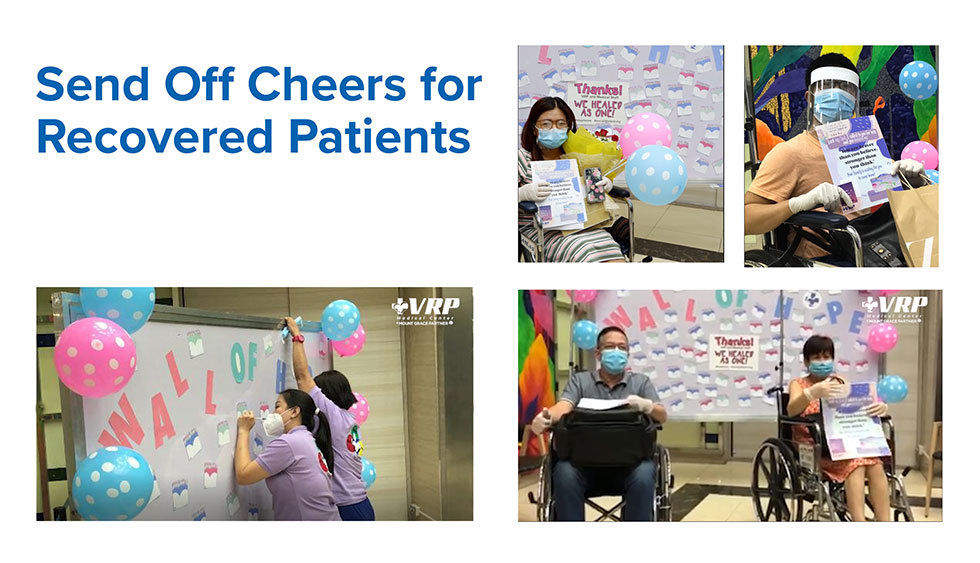 The dawn of healing and recovery has been happening at VRP Medical Center since April 2020. After the first five Covid-19 survivors, more patients have recovered from the dreaded virus with 81% recovery rate since March.
Among the first five COVID 19 survivors was a couple in their senior years. They had a sweet story to tell that moved VRPMC to celebrate their healing and recovery with a heartwarming send off. VRPMC staged a send-off ceremony for them starting from the 10F isolation room where they were wheeled out to the elevator by the frontliners in their PPEs, with the Fight Song music background. As soon as they were wheeled out from the ground floor elevator, they were received by an assembly of hospital staff waiting for them at the main lobby with music and resounding cheers and claps of celebration.
Since then, the send-off celebration for recovered patients at VRPMC has become a significant part of the discharge procedures with patients' consent. After eight months since the first COVID 19 patient was admitted to VRPMC, there were already over 200 patients and counting who have recovered from COVID 19.