Today is VRP Medical Center's 36th Memorial Anniversary.
VRP Medical Center is commemorating today the legacy of its founder Dr. Victor R. Potenciano, to continue to live out the legacy of the man who dreamed of a hospital that will treat its patients like a family, with the best physicians in their field who have the heart for their patients.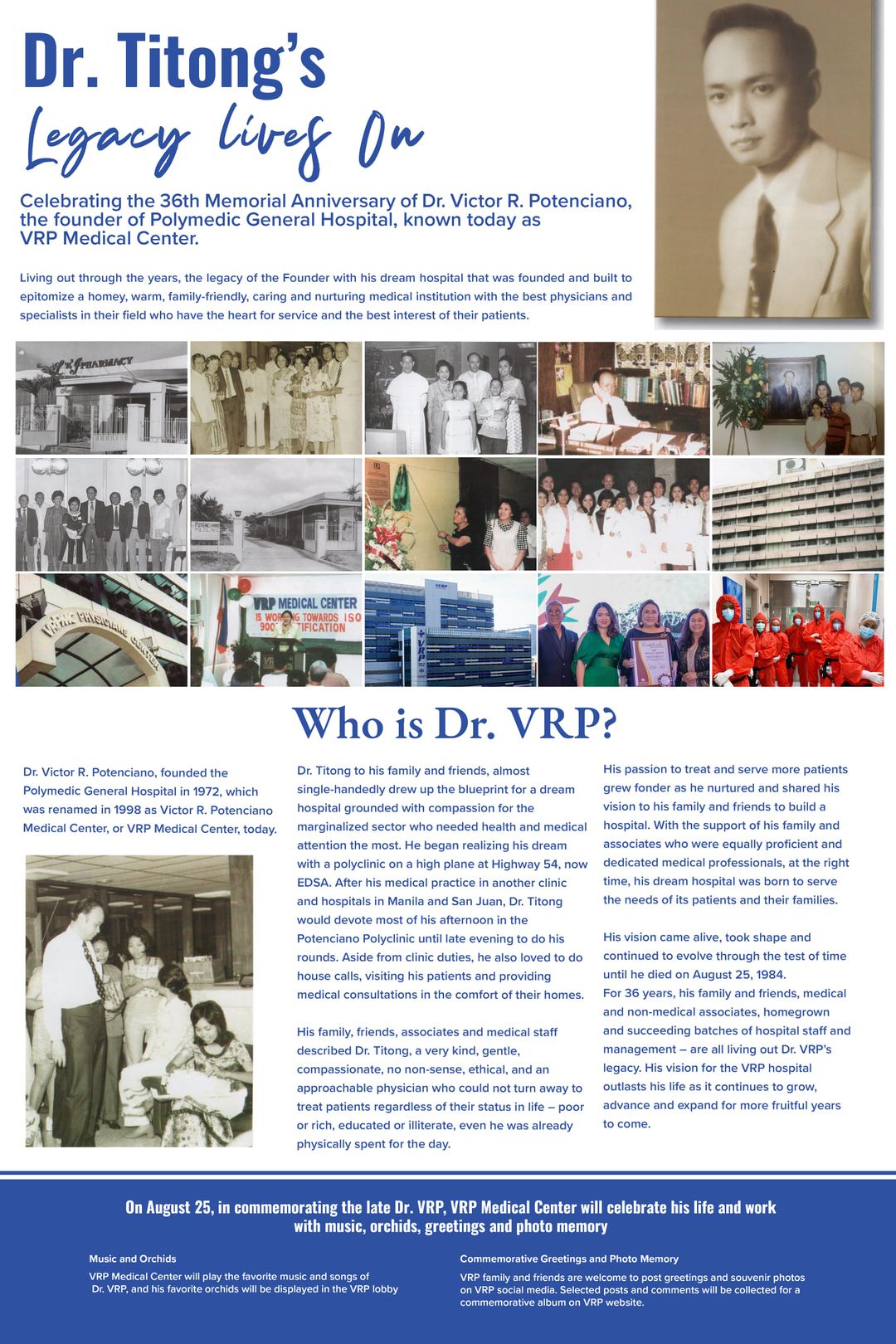 Dr. Titong's Legacy lives On
Celebrating the 36th Memorial Anniversary of Dr. Victor R. Potenciano, the founder of Polymedic General Hospital, known today as VRP Medical Center.
Living out through the years, the legacy of the Founder with his dream hospital that was founded and built to epitomize a homey, warm, family-friendly, caring and nurturing medical institution with the best physicians and specialists in their field who have the heart for service and the best interest of their patients.






















































Who is Dr. VRP?
Dr. Victor R. Potenciano, founded the Polymedic General Hospital in 1972, which was renamed in 1985 as Victor R. Potenciano Medical Center, and shortened to VRPMC, today.
Dr. Titong to his family and friends, almost single-handedly drew up the blueprint for a dream hospital grounded with compassion for the marginalized sector who needed health and medical attention the most. He began realizing his dream with a polyclinic on a high plane at Highway 54, now EDSA. After his medical practice in another clinic and hospitals in Manila and San Juan, Dr. Titong would devote most of his afternoon in the Potenciano Polyclinic until late evening to do his rounds. Aside from clinic duties, he also loved to do house calls, visiting his patients and providing medical consultations in the comfort of their homes.
His family, friends, associates and medical staff described Dr. Titong, a very kind, gentle, compassionate, no non-sense, ethical, and an approachable physician who could not turn away to treat patients regardless of their status in life – poor or rich, educated or illiterate, even he was already physically spent for the day.
His passion to treat and serve more patients grew fonder as he nurtured and shared his vision to his family and friends to build a hospital. With the support of his family and associates who were equally proficient and dedicated medical professionals, at the right time, his dream hospital was born to serve the needs of its patients and their families.
His vision came alive, took shape and continued to evolve through the test of time until he died in August 25, 1984. For 36 years, his family and friends, medical and non-medical associates, homegrown and succeeding batches of hospital staff and management – are all living out Dr. VRP's legacy. His vision for the VRP hospital outlasts his life as it continues to grow, advance and expand for more fruitful years to come.
On August 25, in commemorating the late Dr. VRP, VRP Medical Center will celebrate his life and work with music, orchids, greetings, photo memory, and thanksgiving mass.
Music and Orchids
VRP Medical Center will play the favorite music and songs of Dr. VRP which are mostly Mrs. Irma Potenciano's opera songs, and his favorite flowers, orchids will be displayed in the VRP lobby.
Commemorative Greetings and Photo Memory
VRP family and friends are welcome to post greetings and souvenir photos on VRP social media. Selected posts and comments are also collected for a commemorative album on VRP website.