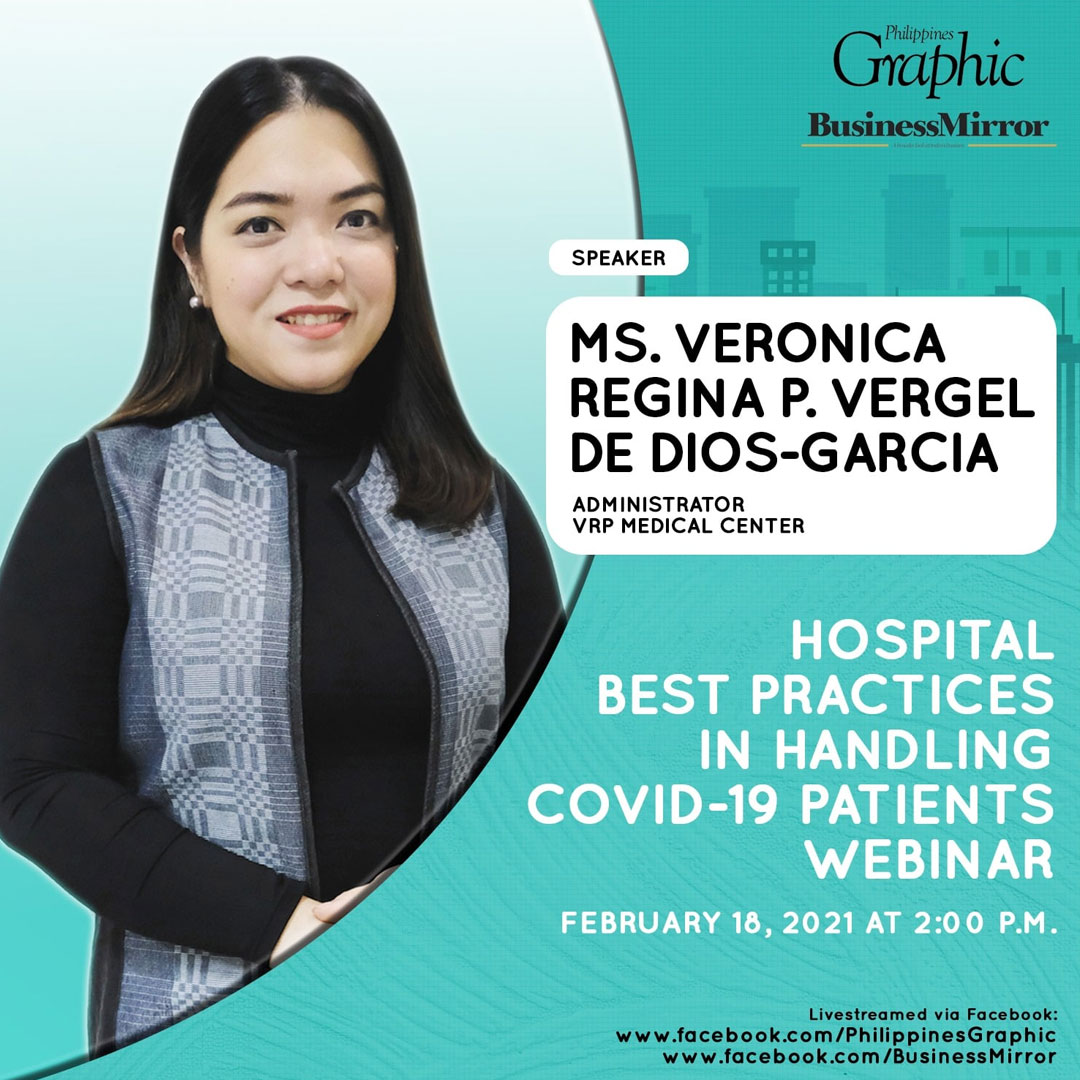 VRPMC Administrator, Mrs. Veronica Regina V. Garcia was one of the distinguished speakers in the recent Philippine Graphic webinar on Hospital Best Practices in Handling COVID-19.
Apparently, the featured hospitals, VRP Medical Center, Asian Hospital, The Medical City, UP- Philippine General Hospital, and all other hospitals represented are doing almost the same best practices during the pandemic with resounding priority for patients' and healthcare workers' safety. All systems and processes are integrated and geared toward achieving this top priority.
Mrs. Garcia in her webinar presentation pointed out at least three among a number of best practices at VRPMC in this time of pandemic: Strengthening safety, leveraging IT, and constant effective internal and external communications.
In VRPMC, safety is a priority. Patients' and healthcare workers' safety is foundational for a hospital. Patients go to a hospital that they can trust for their health and their life. VRPMC, an ISO-certified hospital consistently puts safety first with or without an outbreak. VRPMC did not wait for another second to implement relevant safety protocols right upon the Philippines' first reported nCOV case. Protecting the frontliners and healthcare workers and regular hospital disinfection, among other things, translates to patients' safety and restrains virus transmission.
The VRPMC COVID Teams are composed of Multispecialty-Infectious Disease Specialists, Pulmonologists, Cardiologists, Intensivists, Nephrologists and other specialists as needed. They are ready for the battle to fight an invisible, deadly, and unknown virus. The COVID core team convened to lead, integrate, and mobilize all units and sections to fight the virus according to local and international medical institutions and societies' best practices.
Leveraging Information Technology makes the hospital keep going during the lockdown. VRPMC launched technology-based services including telemedicine, telerounds, telerehab, contactless digitization of transactions with QR codes, e-appointments, e-payments, online results, and Google drive and forms for centralized, accessible circulars, manuals, and other shareable documents.
Virtual channels and social media have become vital for effective internal and external communications. Group chats with focused interests are formed for constant real-time updates, recommendations, deliberations, and approvals. Social media channels frequently post advisories and relevant features of the hospital.
The list of best practices goes on, but perhaps to a VRPMC patient, during this scary time of COVID-19 pandemic, the very niche of VRP among other hospitals is its Alagang VRP signature customer care. A COVID patient admitted in isolation with no visitors allowed can experience anxiety, loneliness, and depression. But a daily boost of small acts of care and attention from the attending physicians, nurses, medtechs, housekeeping staff, and other frontliners on-duty will make the patient feel not only safe in the hospital but cared for and, to some degree, loved.
All best practices being equal among all hospitals, what will make a big difference is the caring and nurturing attention of the hospital staff to the patients. It is not just a good-to-hear slogan or advertisement, but it is the way of VRPMC in the new normal that cares. VRPMC is here as an instrument to treat and heal their patients and give them joy, encouragement, and hope during this time of the pandemic.