When most hospitals are in full-bed capacity, and you have the option to home quarantine due to your COVID condition, get covered with TELEROUNDS HOME QUARANTINE PASS – home quarantine with hospital care. For details, call VRP Medical Center at 8464-9999 Local 361, Monday to Saturday, 8:00 am to 5:00 pm, or leave a message at 09178412416.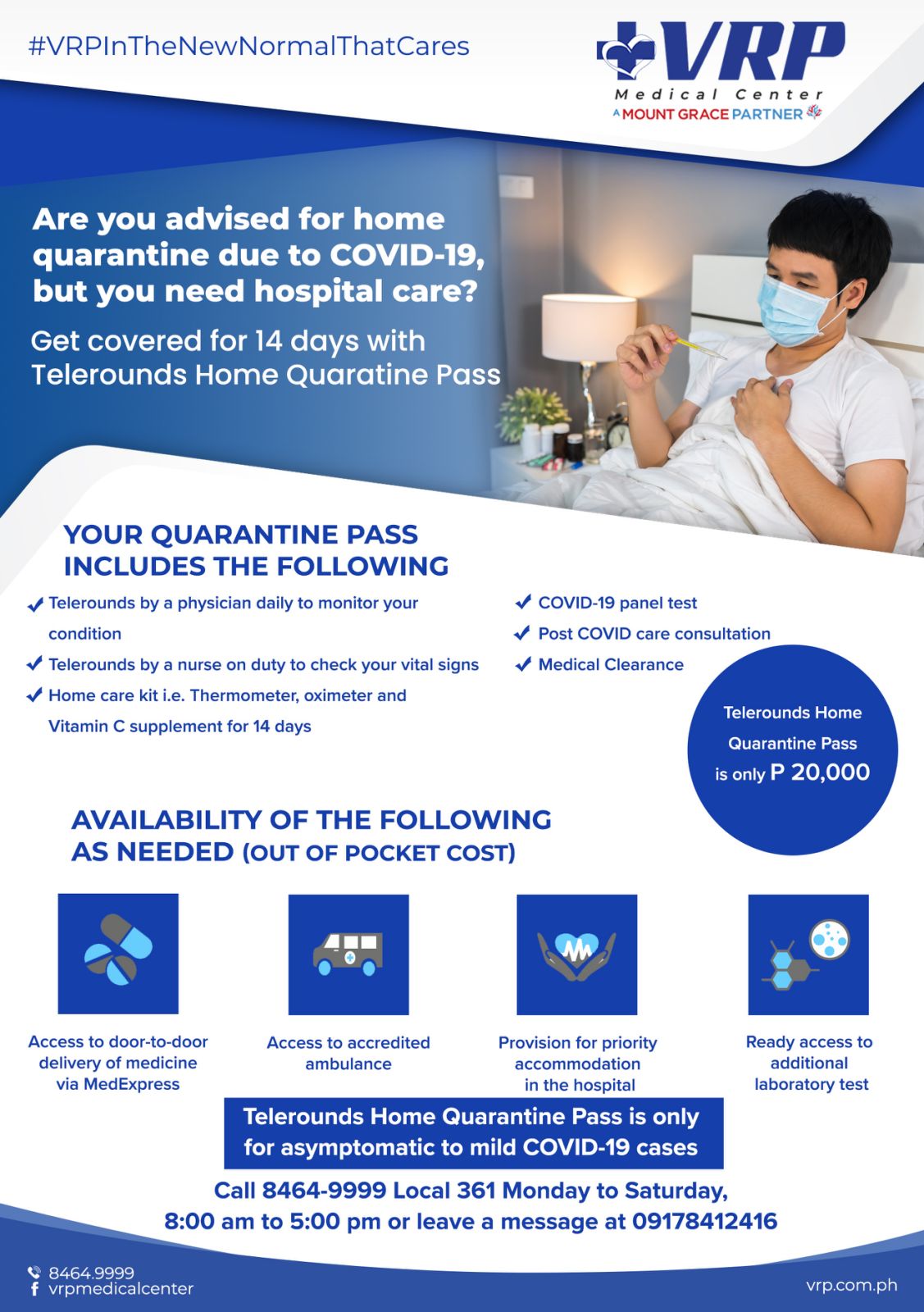 VRP Medical Center is the first hospital to offer a telehealth solution of its kind during this COVID19 pandemic with its Telerounds Home Quarantine Pass.
Telerounds is a prepaid card loaded with medical care and treatment, including daily telemed rounds by VRP Physician & daily remote calls by the nurse on-duty to monitor the patient who is quarantined at home, in a hotel or another facility due to COVID19.
Telerounds is designed for COVID19 suspect, probable or confirmed, asymptomatic or mildly symptomatic, who opt to be quarantined at home than be confined in a hospital. The card pass also covers the patient's pre-assessment by a VRPMC Physician, a medical kit, basic lab tests, post covid care, and medical clearance.
But wait, there is more! Telerounds patients will also have access to other hospital care and services as needed, including MedExpress delivery of prescribed medicines and other pharma needs, additional laboratory tests, and priority accommodation in the hospital with a privilege pass.
For inquiries and more info, call VRPMC trunkline 8464-9999 Local 361 (OMD).