The Doctor Who Was Always In
Believe it or not, there was a time when doctors did house calls. Dr. Victor R. Potenciano, or Dr. Titong as he was fondly called, was one of them. His visits were a boon for patients who were too weak to venture out to a clinic. He was said to be compassionate and approachable. He never turned away anyone. His patients were from all walks of life. Wealthy, important people and ordinary folk got only the best Dr. Titong could give.
As much as he loved doing house calls, Dr. Titong realized he spent too much time on the road. Little was left for him to consult with even more patients at his clinics. This compelled him to finally realize his dream of building a hospital that can receive more patients in just one location.
Even as a young man, the doctor knew how important it is for a doctor to have a place that's large enough to accommodate a sizable number of patients. He had witnessed his father, Dr. Conrado G. Potenciano, attend to patients at their home in Sta. Mesa, Manila. People were always at their house waiting for their turn to consult with his father. When he became a doctor himself, Dr. Titong partnered with 10 other doctors. They opened a clinic dubbed Young Potenciano and Associates. It was located near Dewey Boulevard in Manila. They later moved to various locations, including the storied Syquia Apartments in Malate.
In 1967, Dr. Titong opened another clinic. It was christened Potenciano Polyclinic. Located in Mandaluyong along Highway 54 (now Epifanio delos Santos Avenue), this newer clinic was established in partnership with another set of doctors. Still, Dr. Titong continued to hold the clinic at Young Potenciano and Associates. He also treated patients at the Manila Doctors Hospital and several other hospitals. Although his hectic schedule would leave him exhausted, he never lost his love for serving his steadily growing number of patients. His wife recalled how dedicated he was. She said people felt at ease with him because he was so gentle.
Mrs. Potenciano was the former Irma Ponce-Enrile. Having been raised in an illustrious family that excelled in politics and the arts, Mrs. Potenciano gained prominence as an opera singer. Her siblings include the late actress and film producer Armida Siguion-Reyna, actor Chito Ponce Enrile, and of course, former Senator Juan Ponce-Enrile.
Medicine and opera seem worlds apart, yet the Potencianos had a blissful marriage. They were also a power couple. They excelled in their chosen field of work, and their respective careers flourished at the same time. In his own way, Dr. Titong dabbled in the arts during his free time. Photography was his hobby, and his favorite subject was his vivacious wife.
As Mrs. Potenciano recalls, the number of patients at Potenciano Polyclinic continued to rise. Dr. Titong deemed it time to build not just a bigger clinic, but an actual hospital. Polyclinic would morph into Polymedic. Sadly, as Polymedic grew and weathered a few setbacks, Dr. Titong passed away. This was in 1984, just 12 years after Polymedic opened. He was only 59.
In 2001, the Polymedic General Hospital was renamed Victor R. Potenciano Medical Center. Today the hospital is better known as VRP Medical Center.
It houses more than 50 specialty centers and commits itself to serve the market with Alagang VRP brand, which takes its roots from the way Dr. VRP treated his patients, characterized by the Filipino family spirit of quality care with hands-on treatment of patients like a father-doctor to his family members. Alagang VRP brand is unique because it takes its persona from its founder, "Alagang VRP is "Alagang Dr. VRP."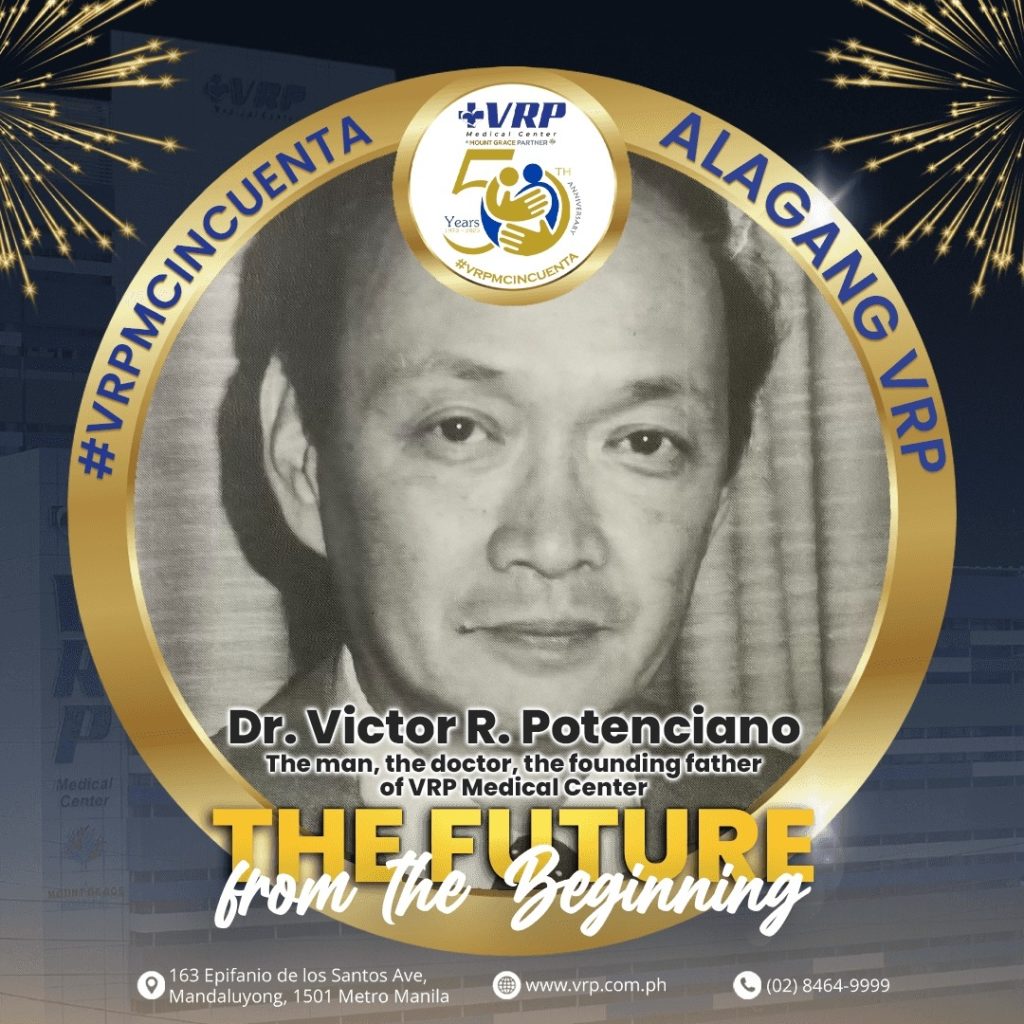 The President's Message during the 50th Anniversary Kick-off Event
My heart is full of happiness and pride that WE, and I mean WE, have reached this momentous milestone of our 50th Anniversary. Coming out after three years of the pandemic all strong and healthy, we are truly blessed to be able to celebrate this historic gathering face to face.
Seeing you all today is so heartwarming. I believe you are as glad as I am to be here. We opted to open our year-long jubilee today exclusively for those who have been part of our journey from the beginning.
While I echo the warm greeting of Rona for our special guests, let me assure you that each one of you is special !! ALL OF YOU ARE INTEGRAL in making the 50 year history of VRPMC. Let us give ourselves a round of applause Walang hindi importante sa ating paglalakbay patungo sa ika-cinkuentang taon na ating pagiging Victor R. Potenciano Medical Center.
If our founding father, Dr. Victor R. Potenciano were alive and present today, he would be beaming with joy and mixed emotions seeing his vision for his dream hospital coming alive to fullfillment at levels beyond his expectations. Dr. Titong, my father, started it all: the way Dr. VRP provided quality care, hands-on treatment with nurturing touch of a father-doctor to his family members. And we proudly carried out his legacy in our new tagline: Ito ang Alagang VRP.
We have named our yearlong celebration THE FUTURE FROM THE BEGINNING! Where we are now and where we want to move to in the future is a CULMINATION of the experiences and contributions of everyone in the last five decades. No experience went to waste through the years. Obstacles provided learnings. Successes continue to be built on. It is an ever-growing experiential ladder towards becoming better each day, each week, each month, year after year.
I am very grateful to the Golden Anniversary organizing committee who worked these past months relentlessly to ensure that a year-long series of 50 events involving community services for Mandaluyong city, medical and human resource events and social engagements will take place to commemorate our 50 years of existence.
We celebrate our 50th year only once, so for tonight in this Kick Off event, you can expect a lot of entertainment and fun.
Thank you for coming and enjoy the rest of the evening. God bless us all! And Happy Golden Anniversary VRP Family!!!
Mrs. Ma. Victoria P. Vergel de Dios
President, VRP Medical Center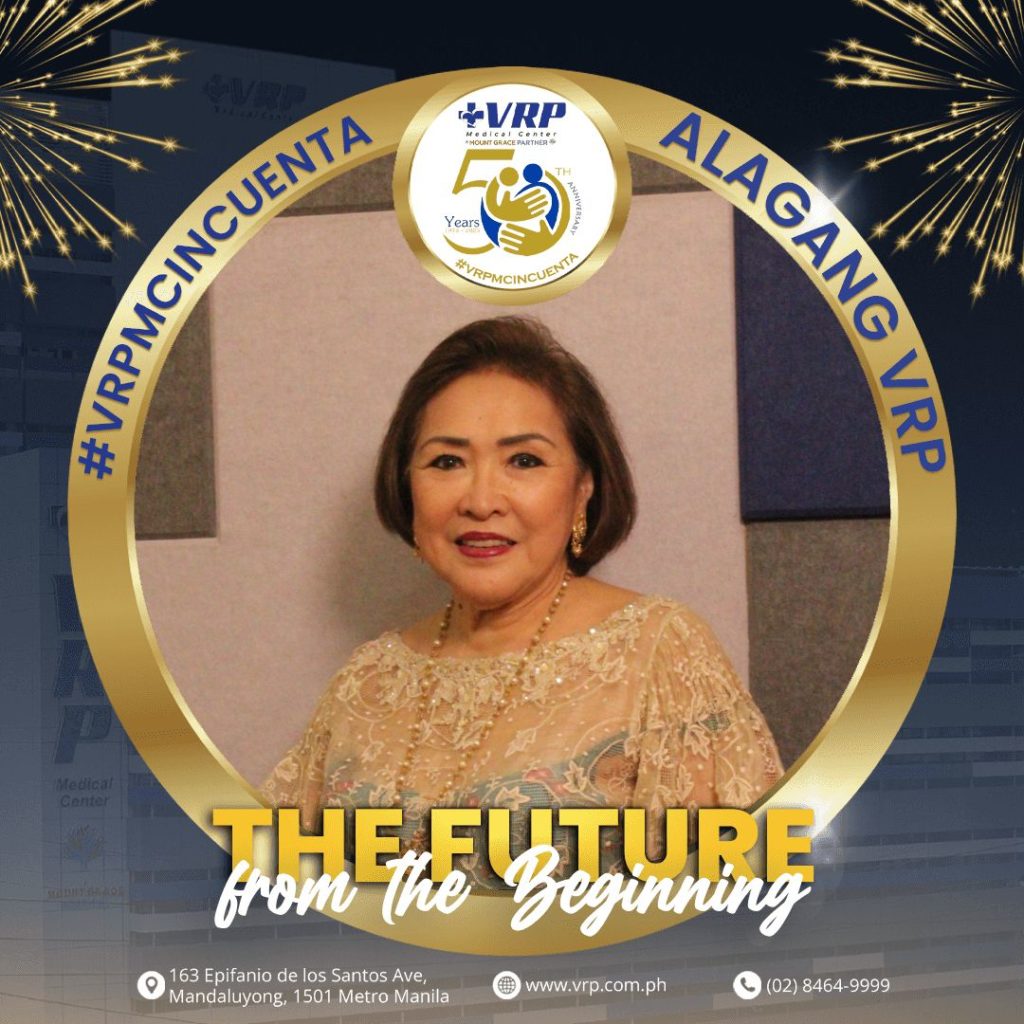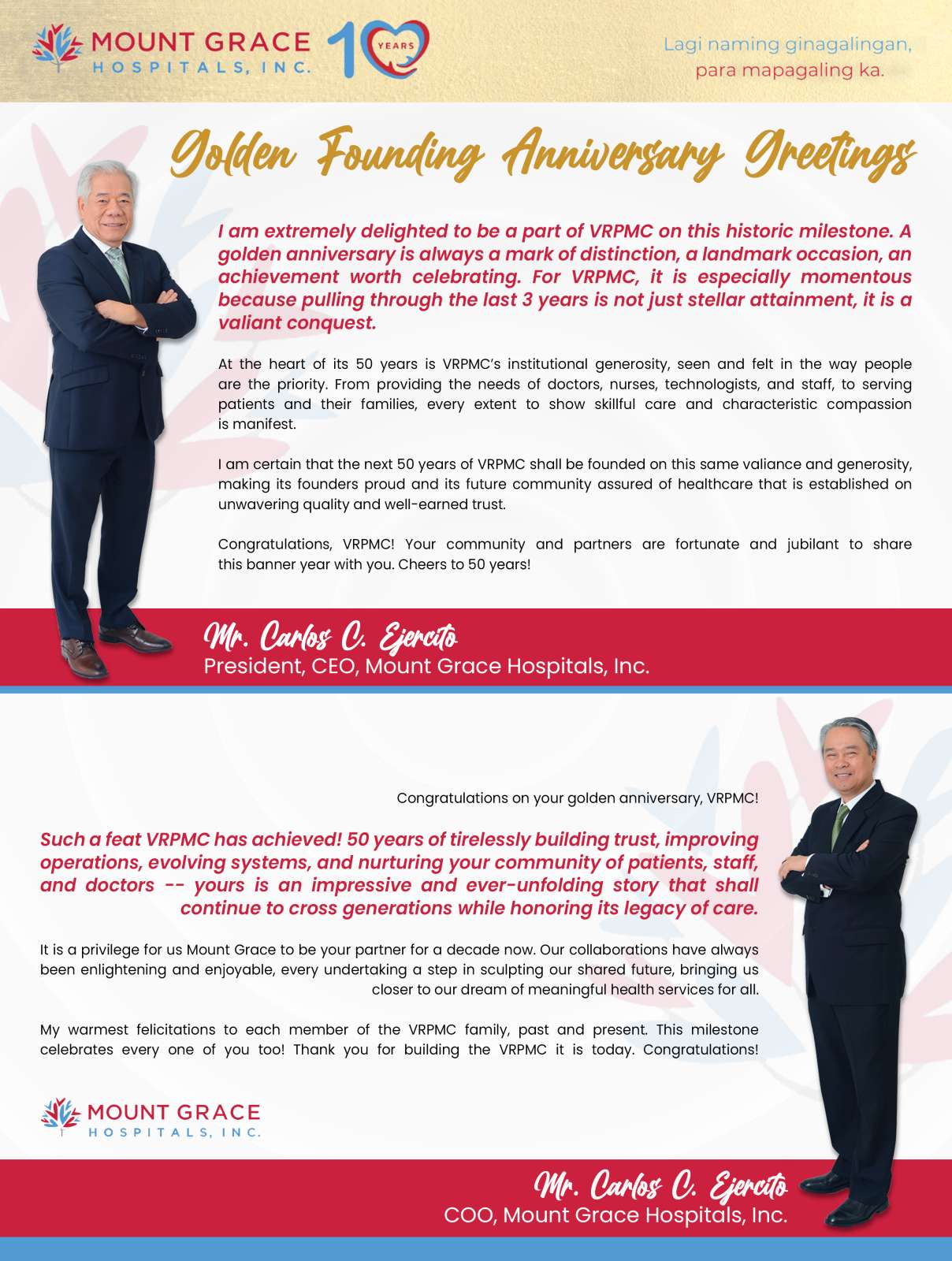 The Hospital Administrator's Message during the 50th Anniversary Kick-off Event
It is such a joy to celebrate our 50th anniversary with all of you. Congratulations to all of us who have been part of the VRP family from the beginning when it was first named Polymedic General Hospital in the 70s, to what it is now known for, VRP Medical Center.
We celebrate our 50th year only once, so we want to take advantage of this opportunity to gather together and celebrate our anniversary with 50 activities for the whole year. Im sure, Dr. VRP is smiling seeing us celebrating the golden anniversary of the hospital he built 50 years ago. Without knowing it, Dr. Titong, my Lolo, had inked a legacy to what would become known later as Alagang VRP. It is a Filipino family spirit of quality care with hands-on treatment of patients like a father-doctor to his family members. What makes Alagang VRP unique is, it takes its persona from its founder, "Alagang VRP" is "Alagang Dr. VRP"
We opened our celebration of our 50 th year with the lighting of the torch which is symbolic of light, knowledge, wisdom, and life. We also celebrated with a thanksgiving mass to give our thanks and offerings to God our Father for seeing us through all five decades, and seeking His blessings of grace, health, and fruitful more years to come. Our Golden Anniversary theme is "The Future from the Beginning" with hashtag VRPMCincuenta. The winning logo best presents our theme in our 50th anniversary logo contest. This logo captures the ALAGANG VRP brand highlighted by the embracing arms within the 50-year symbol. It shows that we wrap our arms not only around our patients as we lead them toward healing, but also to each member of our VRP family, as we encourage each other to do our best and to tide the pressures and demands of our work. Let us continue to show this care, this essence of ALAGANG VRP, to everyone.
Our 50 years' history is another one for the books. As I speak, we are already writing a coffee table book to showcase our 50 years of history. The series of events will run throughout 12 months and will culminate with another grand closing event. Remember that we've just started the next pages of our history and the best is yet to come!
God bless us all! Happy Golden Anniversary VRP Family!
Veronica Regina VDD. Garcia, MS
VRP Medical Center Hospital Administrator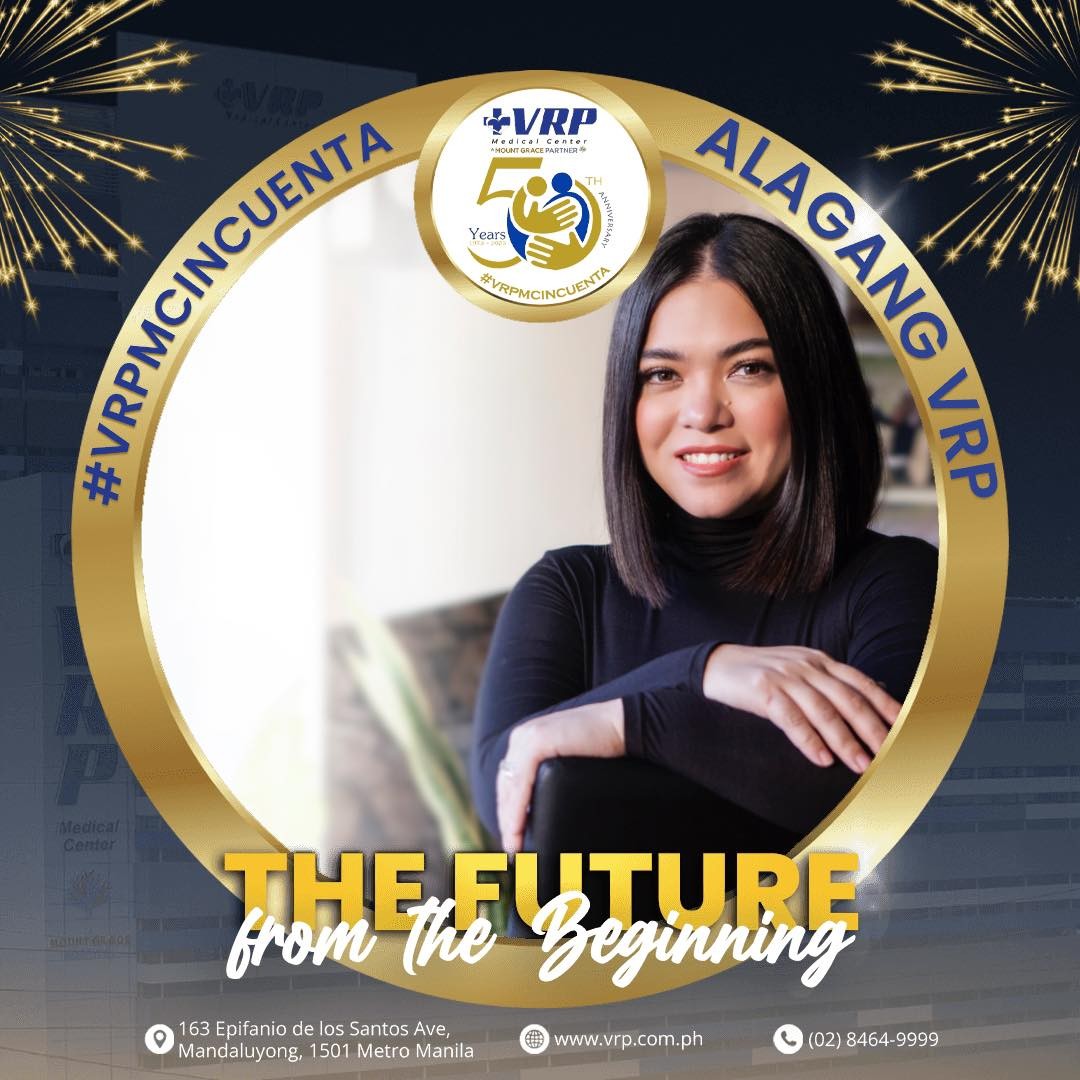 The Medical Director's Message during the 50th Anniversary Kick-off Event
The 50th year anniversary is not just counting years of existence. Indeed, it is a great milestone, and a very significant landmark in the history of VRPMC since it was founded.
It is worth celebrating. Yet one can not help but look back into what makes the 50th year a significant, milestone. To last 50 years and still going strong is no simple achievement.
The 50th year is made of bits and pieces of events too numerous to count. This includes critical challenges that VRP had to take head-on. times or events that made it even stronger, resilient, toughened the very fibers of the institution and made it grow to what it is.
Those are not easy milestones but will go down in VRP history as turning points in 50 years of existence. We were able to overcome those challenges because we believe in VRPMC, and more importantly, because our patients continue to believe in VRPMC. Looking forward I know that VRP Will live long and continue to prosper into the next decades. Congratulations VRPMC!
Dr. Edgardo P. Penserga
VRP Medical Center Medical Director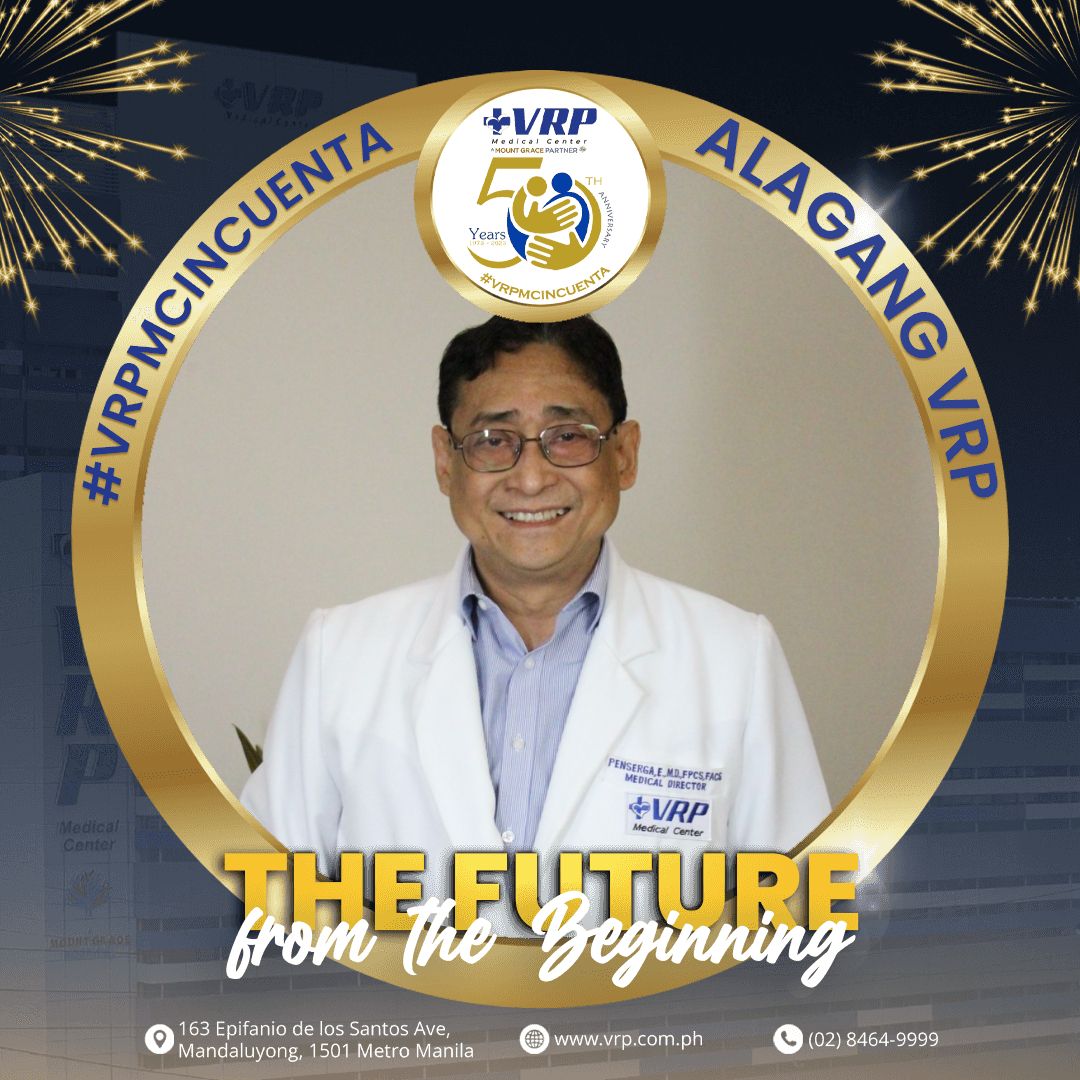 The Deputy Medical Director's Message during the 50th Anniversary Kick-off Event
Fifty years is a lifetime to some, but in today's technological advancements in the medical field, being
"golden" is just the beginning of a new life, a new beginning that blossoms oneself into new opportunities, exhilarating life and meaning in the purpose of being.
Year 1973 was the birth of a new hospital along EDSA, a year just following the institution of martial law, at a time of economic depression and intense political division, but with majority of Filipinos expressing high hopes of a new society and progress in the country. Blossoming from this great challenge, Dr Victor R. Potenciano, a visionary with a purpose, unveiled the Polymedic General Hospital to fulfill a "blueprint for a dream deep in compassion for the many a marginalized sector- the suffering poor and middle class who needed health and medical attention." The dream became a reality, and in 1998 with the hospital attaining its lofty goals, it was later renamed Victor R. Potenciano Medical Center, and now shortened to VRP Medical Center.
Fast forward 50 years hence, VRP has taken great strides in its purpose of being. It has served and cared
for innumerable patients in all walks of life, recognized as the medical center of choice by some, and continued to provide specialists on various field thru their accredited training programs. Emerging from the pandemic, the future is promising and bright for VRP Medical Center for greater service and care in the community at large. At 50, VRP has just warmed- up and the best of what VRP can provide is yet to come.
Dr. Mariano B. Lopez
VRP Medical Center Deputy Medical Director