VRPMC's New Medical Director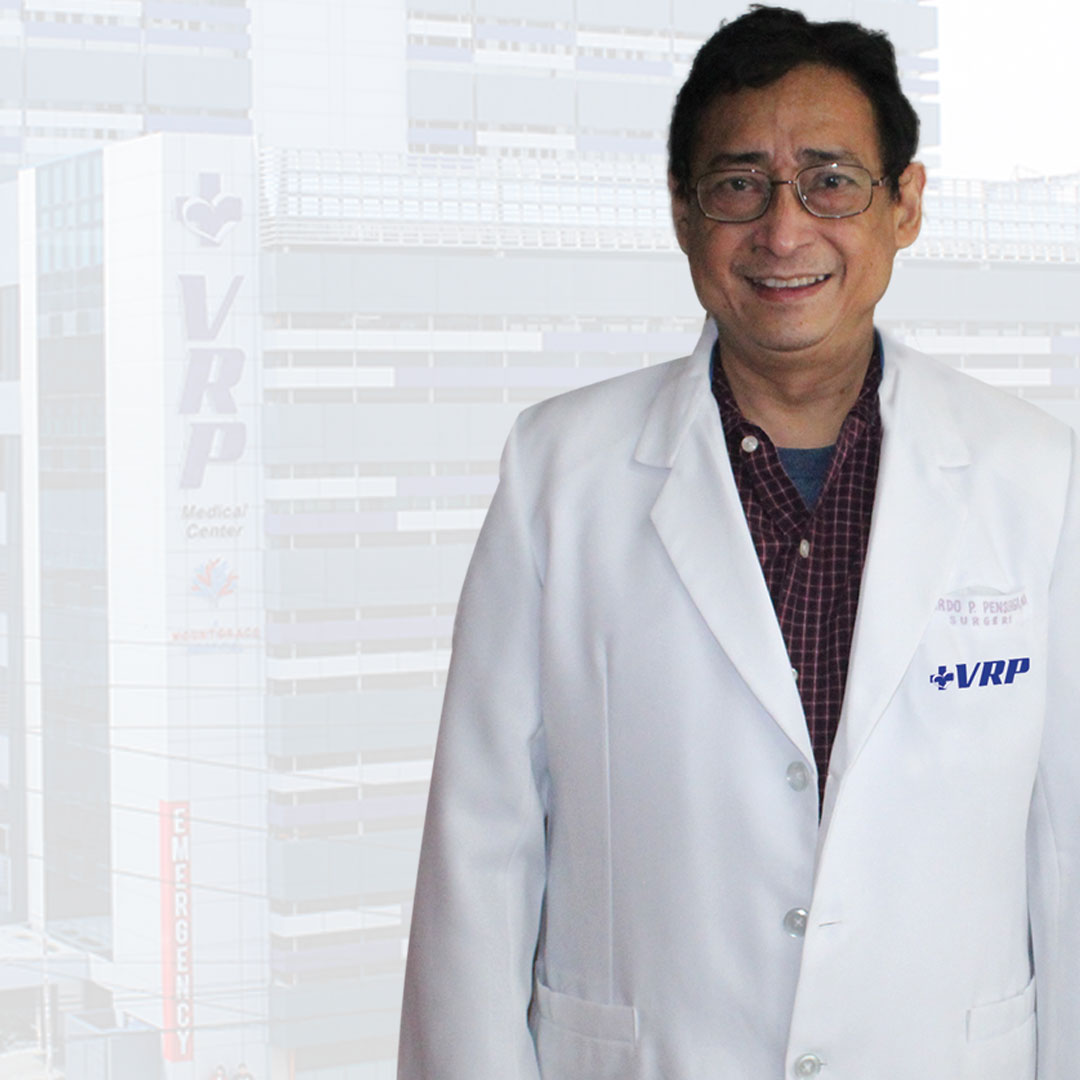 VRPMC is delighted to welcome the appointment of Dr. Edgardo P. Penserga as the new Medical Director, beginning January 1, 2021. He moved up in the succession plan as the Deputy Medical Director of VRPMC's former Medical Director, Dr. Aileen Riego-Javier. 
Dr. Penserga has been an Active Consultant in VRPMC since 1995. He held various key positions in the hospital as Chairman of the Committee on Patient Safety, Training Officer and Chairman of the Department of Surgery.
Before his current appointment, Dr. Penserga served in the Medical Affairs Office as Deputy Medical Director for three years. As the Deputy Medical Director, he worked collaboratively with Dr. Javier to lead clinical care and program strategies, develop clinical practice guidelines, supervise physicians and medical staff, and oversee hospital quality management and operations.
Aside from his responsibilities as the newly appointed Medical Director, Dr. Penserga also holds concurrent critical roles in VRPMC as the Vice-Chairman of Therapeutic and Safety Committee, Chairman of Continuing Medical Education of Medical Affairs Office, and sits as a member of the ISO Accreditation Committee, Medical Executive Committee, Management and Executive Committee, and Research Ethics and Review Board.
Dr. Penserga received his Medicine Degree from Cebu Institute of Medicine and had his Post Graduate Internship at Silliman University Medical Center. He had his residency training in General Surgery at the University of the Philippines- Philippine General Hospital.
He is a Diplomate of the Philippine Board of Surgery, Examiner in the Philippine Board of Surgery, Fellow of the Philippine College of Surgeons, American College of Surgeons, Philippine Society of General Surgeons, Philippine Association of Laparoscopic and Endoscopic Surgeons, Member of the Endoscopic and Laparoscopic Society of Asia, Society of Gastrointestinal and Endoscopic Surgeons, and Associate Member of the Philippine Society of Ultrasound in Surgery.
A husband, father, surgeon, professor, lecturer, examiner, trainer, editor, volunteer blood donor, and member of local and international surgical mission groups, Dr. Penserga, has also served as a volunteer surgeon in many surgical missions in underserved areas in the Philippines and abroad. He comes with multi-roles with innate qualities and mastery in each aspect that he will carry out in his new role as VRPMC's Medical Director.
VRPMC's New Deputy Medical Director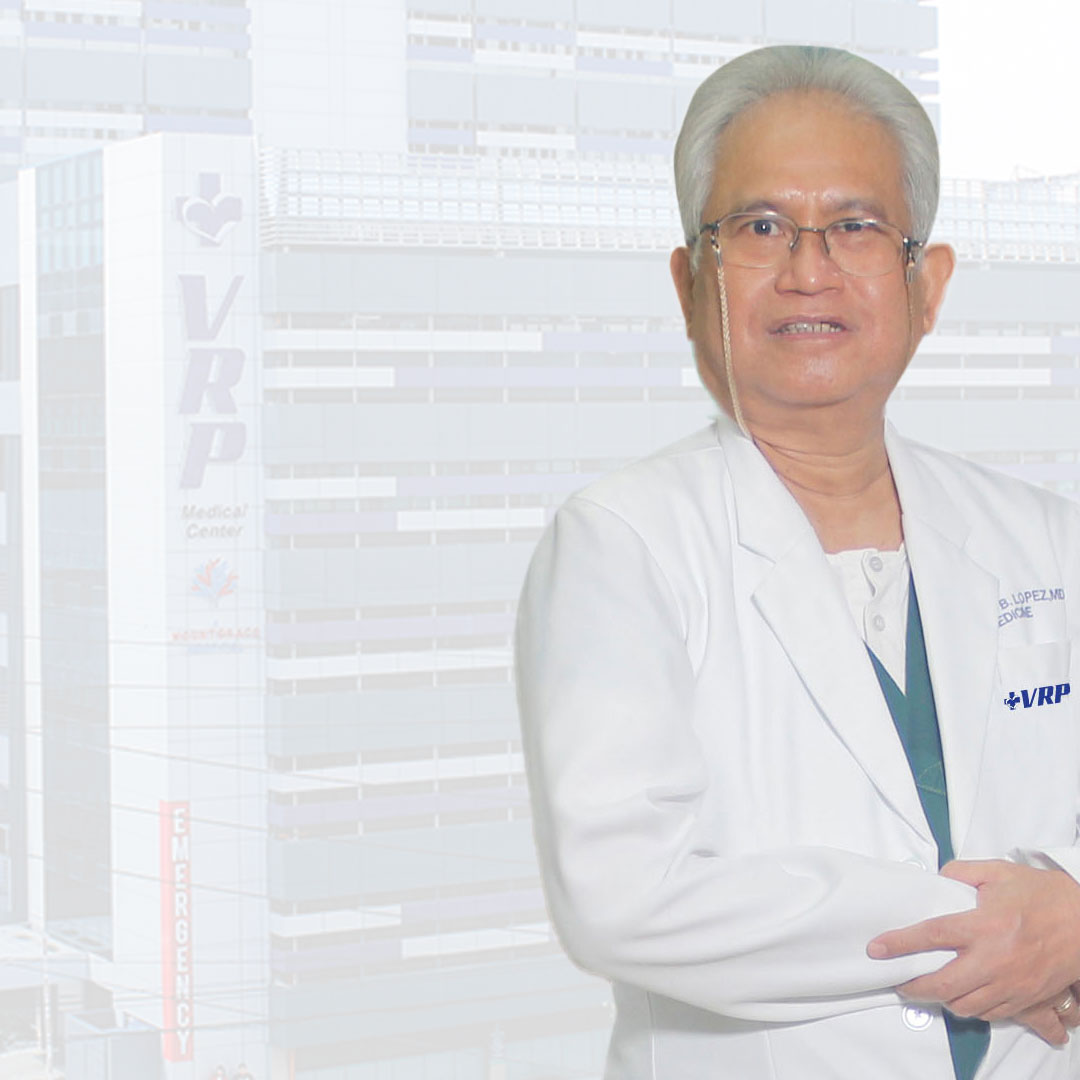 VRPMC is pleased to welcome Dr. Mariano B. Lopez to his new position as Deputy Medical Director. Dr. Lopez is an Internist-Cardiologist and an Active Consultant of VRPMC since 1991. He assumed his post following the Medical Affairs Office's organizational succession plan.
Dr. Lopez also heads our Critical Care Unit and Heart Station aside from the Cardiology Section. He has been leading the latter since 1993 with concurrent vital positions in other tertiary hospitals complementary to his roles and responsibilities in VRPMC. Dr. Lopez was a former Medical Director of United Laboratories, Inc., LRI- Therapharma and Searle Phil., and Fe Del Mundo Medical Center. He was also the Chairman of the Department of Internal Medicine in Rizal Medical Center for 26 years from 1988 to 2014.
He is actively engaged in various medical societies, including being past president of the Philippine College of Physicians, Philippine Heart Association, Philippine Society of Echocardiography, and Pasig Pateros Taguig Medical Society. The most notable achievements he had so far are being the Philippine College of Physicians Distinguished Fellow Awardee and "Marquis Who's Who" as a noteworthy internist cardiologist.
Dr. Lopez graduated B.S. Zoology in UP Diliman, Magna Cum Laude. He earned his Medical Degree from the University of the Philippines Manila. He completed his Residency in Internal Medicine and Fellowship in Cardiology at UP PGH Manila in 1985. Since then, he was appointed and worked as Clinical Associate Professor doing teaching and training activities on medical students and residents in UP College of Medicine and UP- PGH Medical Center for 30 years from 1987 2017.
As the Deputy Medical Director, Dr. Lopez holds a key role together with the new Medical Director, Dr. Edgardo T. Penserga, in overseeing the implementation and management of the hospital's comprehensive and integrated healthcare delivery system. Their roles include reviewing and recommending policies for academic and training programs of Clinical Departments. He is also commissioned to represent the Medical Director in his absence at all times.  
Dr. Lopez is a loyal husband to his wife, Josephine, a father to three daughters, all in their medical practice: Marian Joy, an Internist-Cardiologist at VRPMC; Marian Jasmine, a Clinical Psychologist at NCMH; and Marian Johanna, an Anesthesiologist-Resident at MMC.
In a nutshell, Dr. Lopez is a physician, scientist, clinical professor, lecturer, medical adviser, and corporate manager; all rolled in one. His reputable track record and mastery in his field of expertise will surely make a significant mark in his crucial assignment in the Medical Affairs Office.
Above all his sterling achievements, what does he want people to remember of him as his legacy? He quips, "I would like people to remember me as a loving father and loyal husband, who has brought up a happy and God-fearing family and had helped them be successful in this world on their own right."